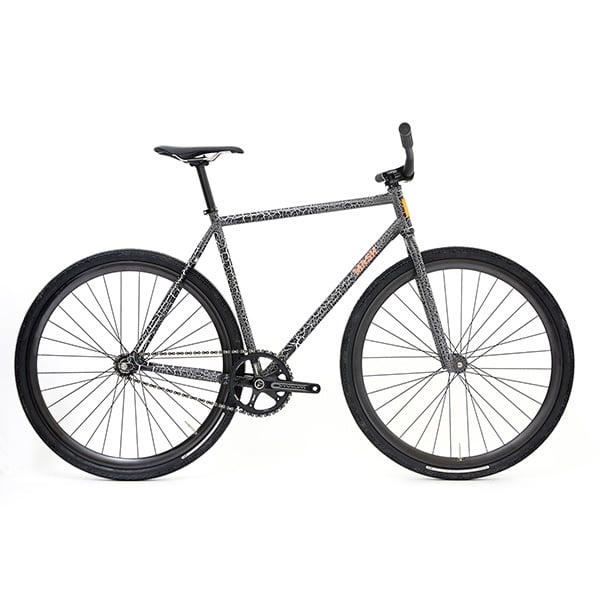 MASH Reyes Steel Frameset
Today we are excited to share our frameset collaboration with Matt Reyes. Enclosed are 
some details from Matt on the frames development:

THE FORK: 
The transformation began with prototyping a couple different fork options before landing 
on what you see here. We went with a 420AC fork with shorter (29mm) dropouts than 
standard (referencing the Fumanchu fork as an example). The shorter fork dropouts keeps 
the wheelbase tight while giving you additional bar spin clear as your wheel spins back
 towards your feet. The tapered tube design for the fork arms keeps the aesthetic looking
 more track bike while minimizing the amount of weight on the front end. This slight 
shaving in weight provides huge advantages when doing spin tricks and throwing the bike 
around.


TUBING: 
MASH Butted Steel. For this frame we used more BMX style tubing that is larger in 
diameter for both the top tube and down tube. The top tube angle has also been dropped 
as it descends to the seat tube. Making it easier to get more height out of bunny hops 
and allowing you to drop your knee over the bike. Which has its advantages when it comes 
to control and performing certain tricks. 

HEADTUBE: 
The head tube was updated to an hourglass shape that utilizes drop in bearings instead 
of press fit. Just one more thing that makes working on and maintaining your bike easier
 from the comfort of your own home. Less is more, especially when it comes to the amount 
of tools you need to assemble. 


THE TOP TUBE: 
One of the key focuses of the project was establishing greater bar spin clearanace. We 
achieved that by extending the top tube a touch and providing less toe overlap. All of 
which helps whether you're doing tricks or just riding around town. It was intended to
 be run with a shorter stem. Bringing your bars closer to you and giving the bike more 
BMX handling feels. If you want the same body position you had on your "Steel Frame" I 
recommend you run a stem that's 10-20mm shorter.


GUSSETS:
There are 3 primary gussets on the REYES Steel Frame. They're located on both the top 
tube and down tube, reinforcing the connection point to the head tube. The third gusset
 is a small bridge that is tucked away behind the BB giving the chain stays additional 
strength and lateral support.

TIRE CLEARANCE:
I'll be honest. The first thing that drew me to the MASH Steel frame was the huge tire 
clearance it offered. With this frame set we attempted to provide even more space. Just
 incase your tires get a little wiggly and out of true. The drive side chain stay 
features a solid steel plate that gives space for a 42-45c tire while still providing
 room for a full size chainring. 


IMPORTANCE OF SPEC:
If you're like me and replaced the fork on your MASH Steel frame for something longer, 
then I'm sure you noticed that the bike handled entirely different once you made that 
change. The handling on it somehow felt a little more squirley and unpredictable. Things
 are designed the way they are for a reason and the REYES Steel frame is designed around 
a 420AC fork. Making the ride feel a heck of a lot more locked in and controllable. 
Riding through traffic no hands is now easier than ever. 

BB HEIGHT: 
The BB height on this bike is relatively high, yet low enough to feel stable while 
pedaling out wheelies. Once you put some 38-42c tires on, it boosts the bike so high 
off the ground that you effectively eliminate the threat of pedal strike all together.
 I'm able to lean into corners so deep on this bike. It's absolutely insane. That 
coupled with some knobby tires make this bike a cornering monster.


FEATURES YOU WON'T SEE:
A couple of the things that this frame doesn't have in comparison to the MASH Steel 
Frame are the water bottle mounts, brake mounts, and brake cable routing holes going 
through the top tube. Less is more. Especially if you're going to be jumping off a bunch 
of stuff. Haha. 

FEATURES WE KEPT:
Again, using the MASH Steel frame as our base, we kept most of the same component 
spacings and sizes. That way swapping over parts from your existing track bike will be
 a breeze without having to gather different or additional components. 

WHAT DOES THE BIKE COME WITH?
Beyond just coming with a Frame + Fork, the full package includes headset bearings, a
 MASH seat post collar and a MASH top cap assembly. We did our best to provide 
everything you'll need to get up and running. Made in Taiwan.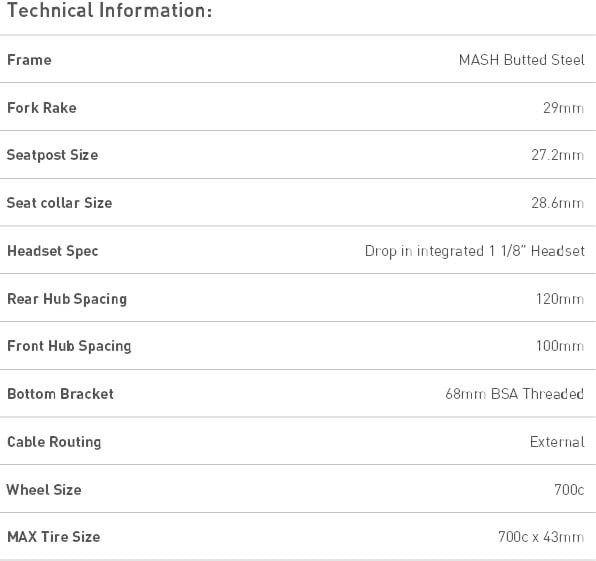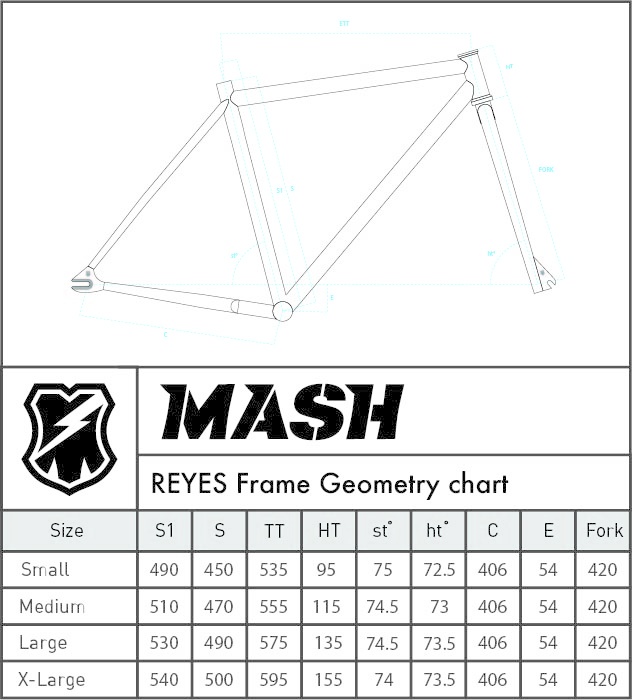 $900.00